FROM 2019 COPS OUT OF DYKE MARCH ACTION:
MORE COPS OUT OF DYKE MARCH PICS HERE!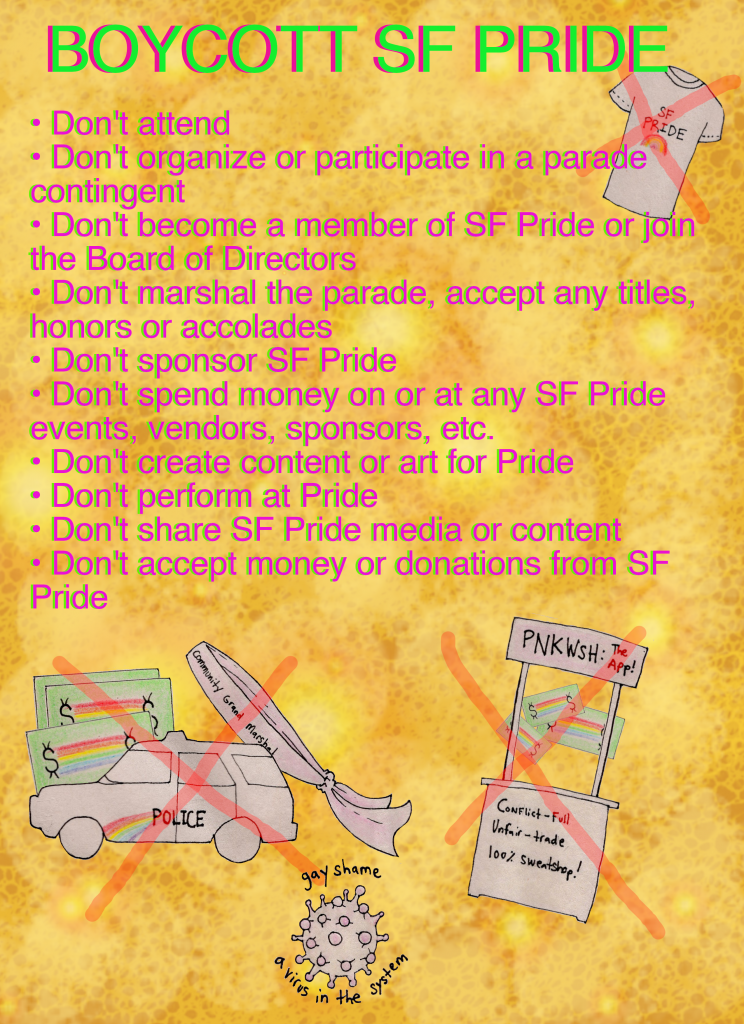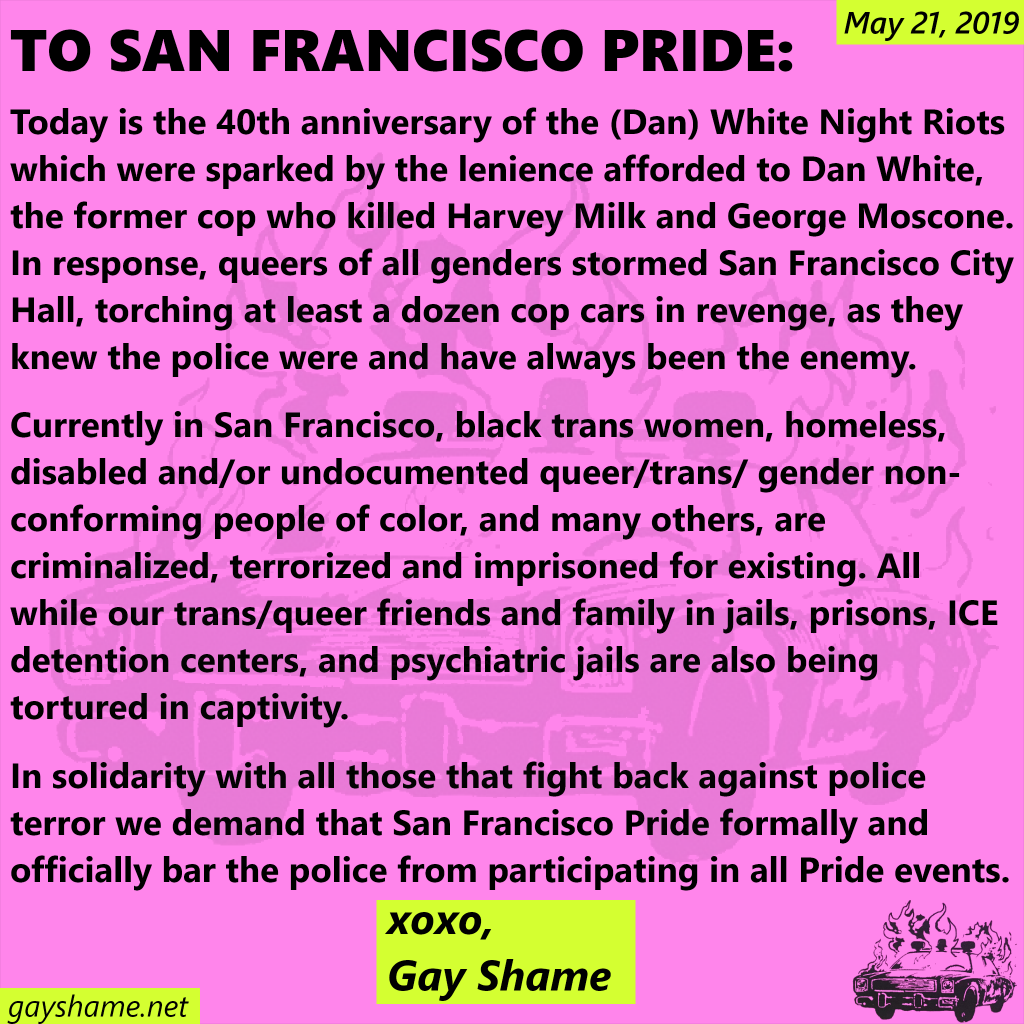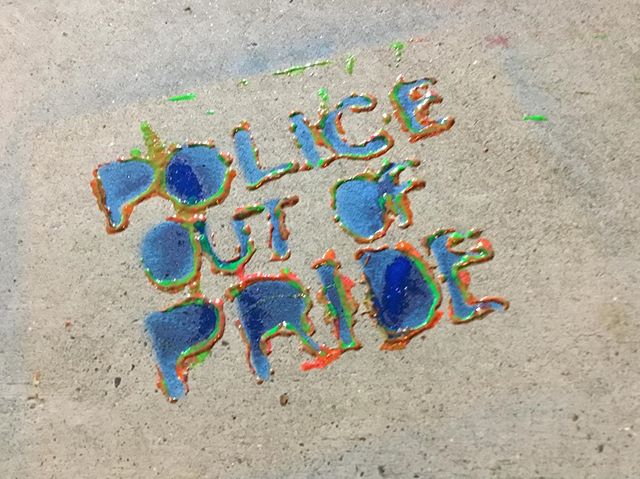 MISS MAJOR GRIFFIN-GRACY
Trans revolutionary and veteran of the Stonewall riots
TOMMI AVICOLLI MECCA
Queer anti-displacement organizer and performer
BLACKBERRI
Queer singer-songwriter and activist
CECE MCDONALD
Trans prison abolitionist
TOURMALINE
Trans artist and filmmaker
<
MATTILDA BERNSTEIN SYCAMORE
Queer author and instigator
Five-O Out of PRIDE 50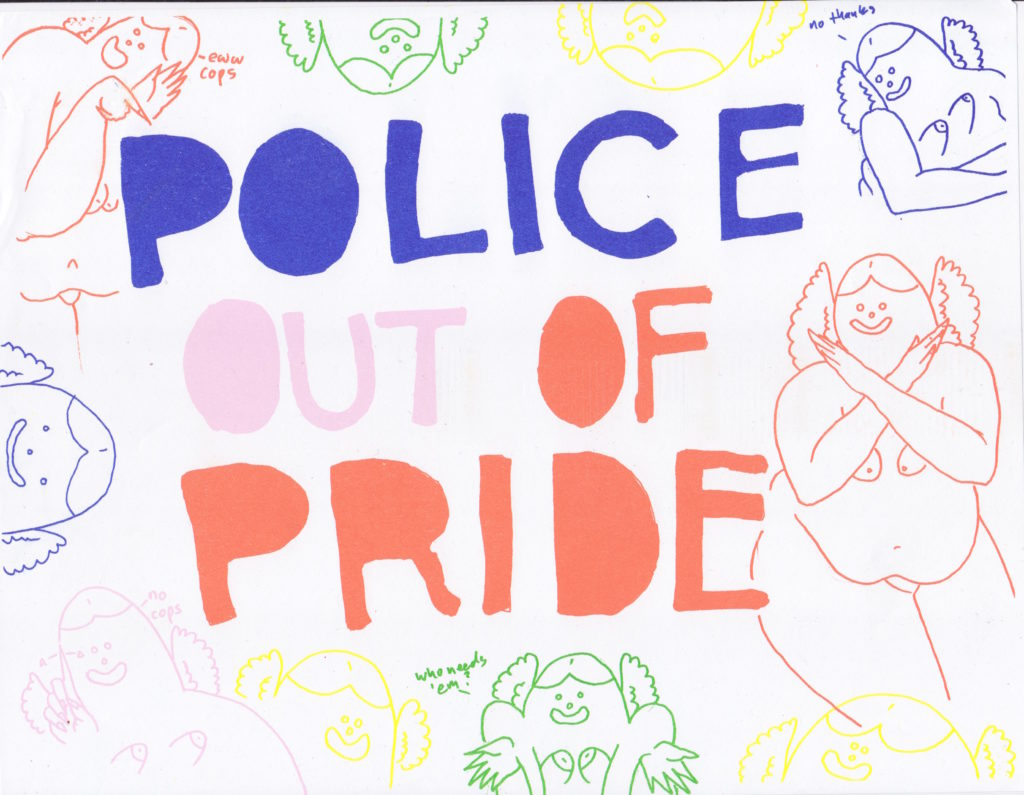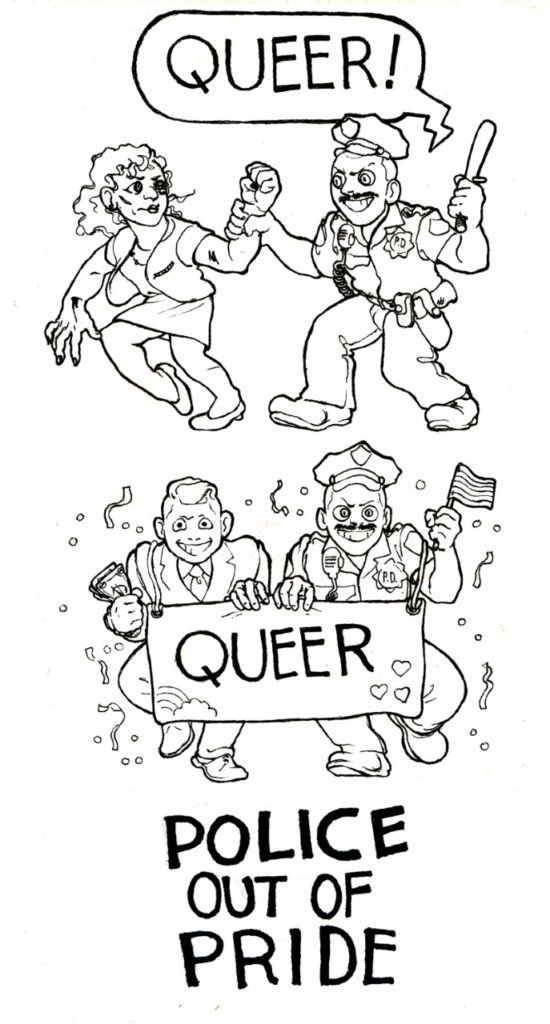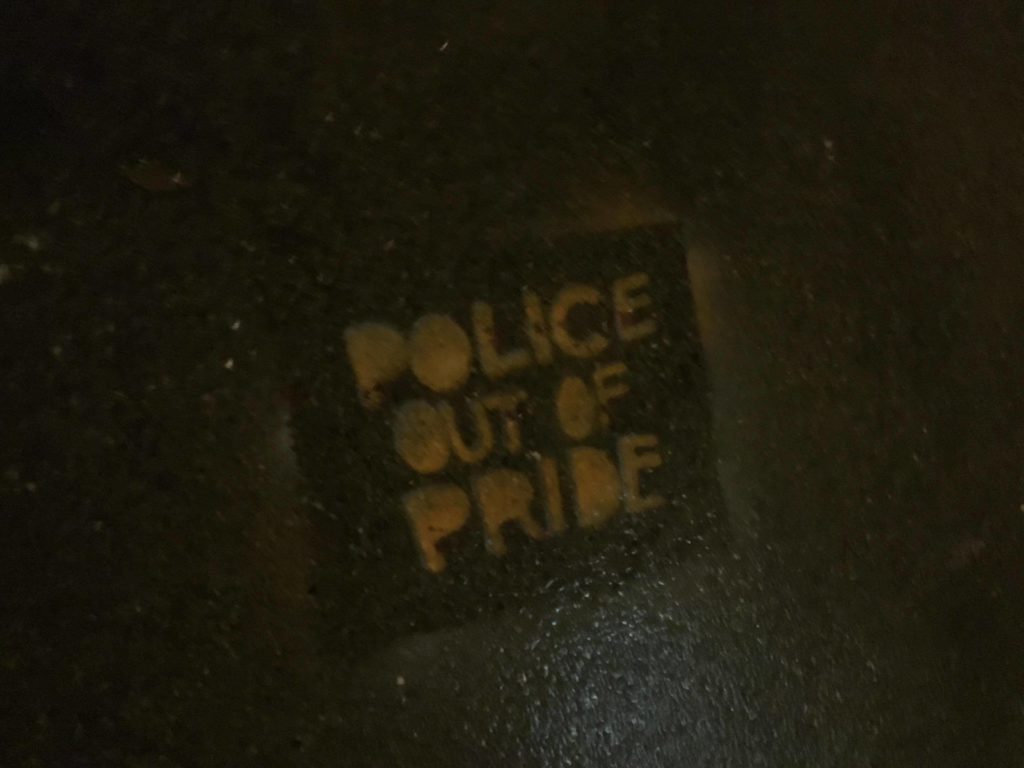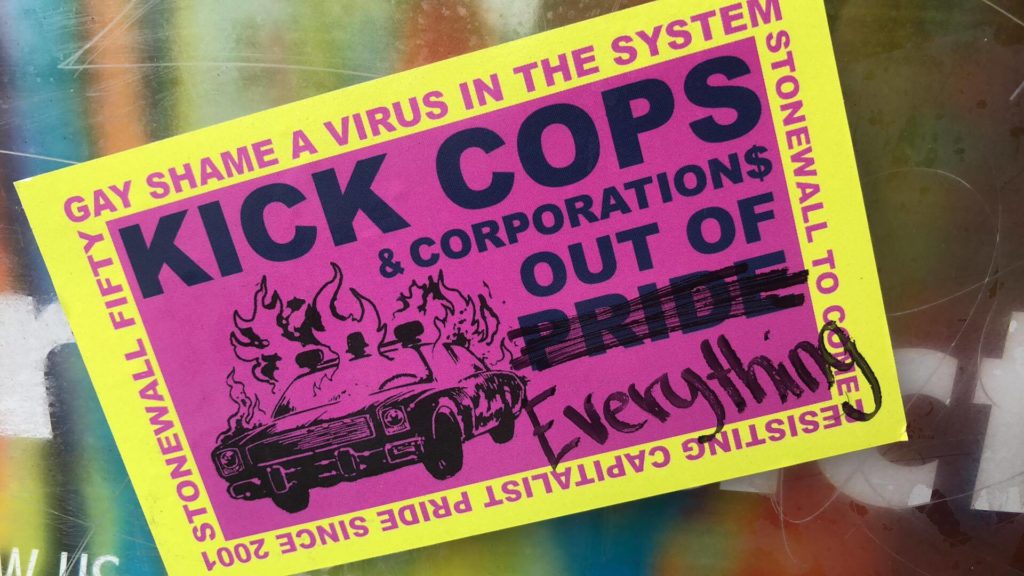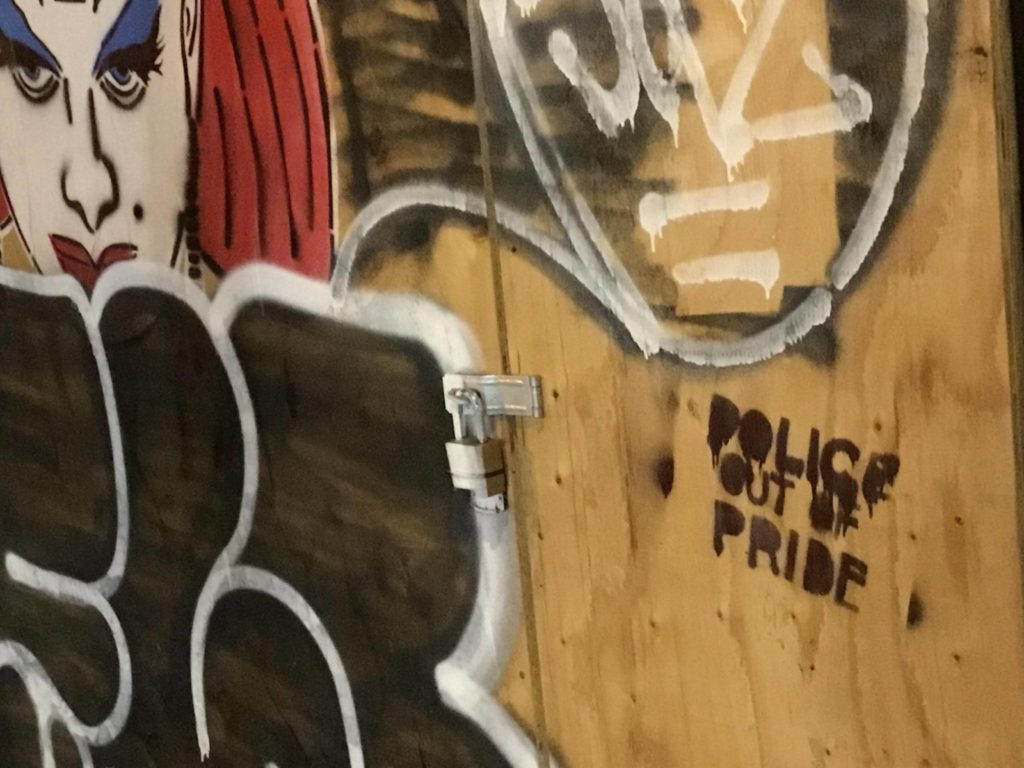 It's been 50 years since Stonewall and still we have cops at PRIDE™. Stonewall was a series of riots in New York City against police repression and violence where trans women, dykes, fags, butches, hair fairies, street queens (and much more) fought back. In the past half-century since, police violence against trans/queer people people of color has not decreased, but has in fact substantially increased through daily harassment, evictions, ICE raids, sex worker stings, and homeless sweeps that funnel trans/queer people of color into the Prison Industrial Complex. Despite this routine violence police visit upon queer and trans communities, at PRIDE™ festivals across the world the police constitute a heavy participatory presence. PRIDE™ is now little more than a marketing scam for partying straight people, tech companies, and other murderous corporations, lead by rainbow colored cop cars.
While we remember the histories of Stonewall and Compton's, lets find ways to collectively commemorate, re-(in)state and embody the promises those nights held for queer and trans futures, possibilities, and liberation.
Join us in demanding an immediate and permanent ban of police at PRIDE™.
++++++++++++++++++++++++++++++++++++++++++++++++++++++++++++++++
So long as PRIDE™ continues to enable and welcome the presence of the police, we ask that people participate in a complete boycott (physical, financial, cultural, existential) because we refuse to be paraded by cops. A boycott of PRIDE™, for participating individuals and organizations, means:
++++++++++++++++++++++++++++++++++++++++++++++++++++++++++++++++
· Don't attend the parade itself, or SF PRIDE™events throughout the month (unless its to directly confront the horror)
· Don't organize or participate in a parade contingent
· Don't become a member of SF PRIDE™ or join the Board of Directors
· Don't marshal (already a militaristic term in itself) the parade or accept any titles, honors or accolades
· Don't sponsor SF PRIDE™
· Don't spend money on or at any SF PRIDE™ events, vendors, sponsors, etc.
· Don't create content or art for PRIDE™
· Don't perform at PRIDE™
· Don't share SF PRIDE™ media or content
· Don't accept money or donations from SF PRIDE™
· Don't UberPride©
· Don't AirBnB with Pride, it leads to the eviction of trans/queer people
List of cities we've found so far that currently don't allow cops (or at least no cops in uniform):

Auckland, New Zealand
London, Ontario
Minneapolis, Minnesota
Toronto, Ontario
Sacramento, California
Calgary, Alberta
Edmonton, Alberta
Gothenburg

Alternative prides that are anti cop and/or anti corporate:
Charlotte, North Carolina
Columbus, Ohio
New Orleans
Pride De Nuit – Paris, Nice, Toulouse, Lyon
Cologne, Germany

Other orgs specifically against corporatization and cops:
Reclaim NYC Pride
No Justice No Pride DC