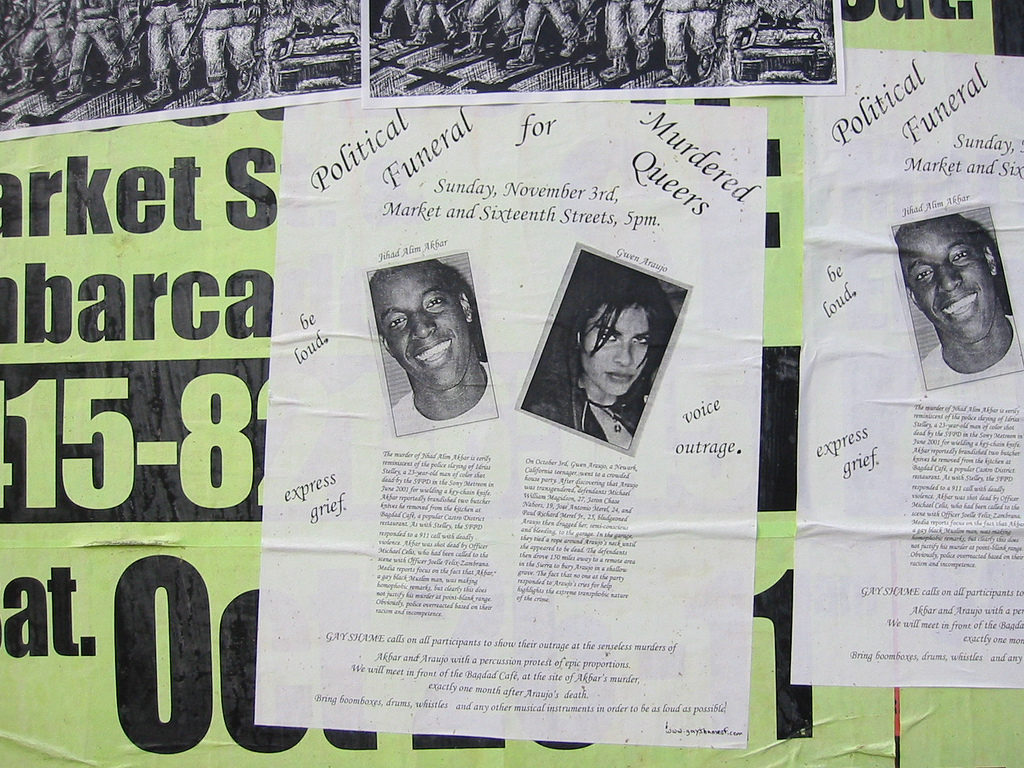 Political Funeral for Murdered Queers: Jihad Alim Akbar and Gwen Araujo
Violence, discrimination, racism, and transphobia are almost accepted amongst mainstream culture. Police nearly have unlimited power, the media fails to give these issues the attention and significance that they deserve, and discrimination still thrives, even in communities where it is apparently chastised. We are outraged at the murders of these two young individuals. They are simply the result of the horribly naive and mindlessly violent climate in which we live, and goes to show that the Bay Area is nowhere near the tolerant utopia that it purports itself to be. As with similar cases from the past, we will surely see a lack of appropriate community response to these slayings. Our police state will favor the officer's interests over Jihad's, and Gwen's murderers will certainly not endure the scrutiny they deserve. People are obviously not questioning the fact that violence and hate are standardized modes of response for dealing with each other. The SFPD has become notorious for shamelessly bashing trannies, racially profiling, criminalizing homelessness, etc., which only reflects the values of mainstream culture. It is very rare, however, that people respond. Today is our chance to voice our outrage and disgust with our violence-ridden culture, which is exemplified by our community's acceptance of the practices of the SFPD. Be loud.
Once again our culture of violence and the climate of hate in which we live has manifested itself in the brutal murders of two individuals in the Bay Area. Jihad Alim Akbar and Gwen Araujo were both murdered in the name of hate, ignorance, intolerance, and incompetence. Jihad, a queer, black, Muslim man, was shot dead at point blank range by SFPD officer Michael Celis. Jihad, under an episode of dementia, was causing a disturbance in Bagdad Cafe. Instead of having a response team dealing with mental illness sent to the scene, the SFPD was sent to murder him. This was an obvious case of racial profiling, and disturbingly illustrates the ineptitude of the SFPD with dealing with cases of mental illness. Gwen was attending a party when four males discovered she was transgendered and brutally beat, tortured, nurdered, and buried her.
---
Sunday, November 3rd, San Francisco, Market and Sixteenth Streets, 5pm. GAY SHAME presents a political funeral for Jihad Alim Akbar and Gwen Araujo. Akbar, a gay black man, was shot and killed by the SFPD on October 8th. Araujo, a 17-year-old transgendered Latina, was bludgeoned and then strangled to death by four men at a party after they discovered she was transgendered. GAY SHAME calls on all participants to bring noisemakers to voice their outrage at these brutal murders. Bring boomboxes, drums, whistles and any other musical instruments in order to be as loud as possible to fully express our grief and outrage.
The murder of Jihad Alim Akbar is eerily reminiscent of the police slaying of Idriss Stelley, a 23-year-old man of color shot dead by the SFPD in the Sony Metreon in June 2001 for wielding a key-chain knife. Akbar reportedly brandished two butcher knives he removed from the kitchen at Bagdad Café, a popular Castro District restaurant. As with Stelley, the SFPD responded to a 911 call with deadly violence. Akbar was shot dead by Officer Michael Celis, who had been called to the scene with Officer Joelle Felix-Zambrana. Media reports focus on the fact that Akbar, a gay black Muslim man, was making homophobic remarks, but clearly this does not justify his murder at point-blank range. Obviously, police overreacted based on their racism and incompetence.
On October 3rd, Gwen Araujo, a Newark, California teenager, went to a crowded house party. After discovering that Araujo was transgendered, defendants Michael William Magidson, 27, Jaron Chase Nabors, 19, Jose Antonio Merel, 24, and Paul Richard Merel Jr., 25, bludgeoned Araujo then dragged her, semi-conscious and bleeding, to the garage. In the garage, they tied a rope around Araujo's neck until she appeared to be dead. The defendants then drove 150 miles away to a remote area in the Sierra to bury Araujo in a shallow grave. The fact that no one at the party responded to Araujo's cries for help highlights the extreme transphobic nature of the crime.
GAY SHAME calls on all participants to show their outrage at the senseless murders of Akbar and Araujo with a percussion protest of epic proportions. We will meet in front of the Bagdad Café, at the site of Akbar's murder, exactly one month after Araujo's death.
GAY SHAME is a radical alternative to the gay mainstream and the increasingly complacent left. We seek nothing less than a new queer activism that addresses issues of race, class, gender, and sexuality, to counter the self-serving "values" of the gay mainstream. We are dedicated to fighting the rabid assimilationist monster of corporate gay "culture" with a devastating mobilization of queer brilliance. GAY SHAME is a celebration of resistance: all are welcome.